Registering a Coinbase wallet in Securitize iD
Introduction
Coinbase Wallet is one of the 2 wallet types that Securitize directly supports integration with through the investor dashboard. Note that while Coinbase Wallet is a Coinbase application it is distinct and separate from Coinbase.
Before starting this tutorial ensure that the wallet registration process is open to you on the investor dashboard.
Create a Coinbase Wallet Account
Overview of the Coinbase steps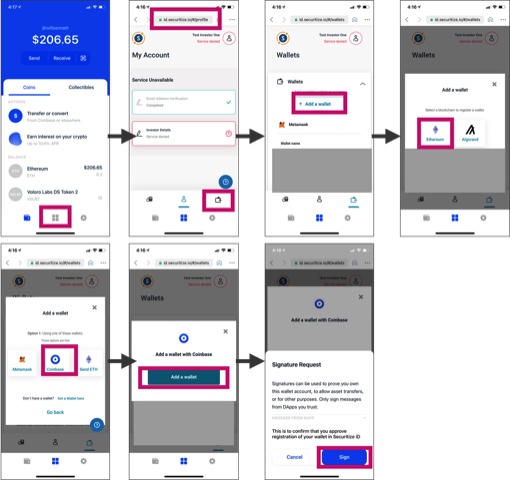 Register your Coinbase Wallet Account
Open the Coinbase Wallet. Once opened, select the 4 boxes at the base of the screen (see image 1 below).
Next, enter the URL of the investor dashboard (ex. https://dashboard.volorolabs.io). Once you log in you will be prompted to provide a signature authorizing the wallet to be linked.
Images 1-3: The 3 steps of registering a wallet
Registration - Video Walkthrough