Verifying your KYC to Trade on Securitize Markets
Step 1: To start the KYC process, navigate to the Securitize.io registration page, or click here. If you have already started your KYC, but still need to complete it, please login to your account by clicking here and follow the prompts.
In the beginning you will be prompted to create an account as shown below: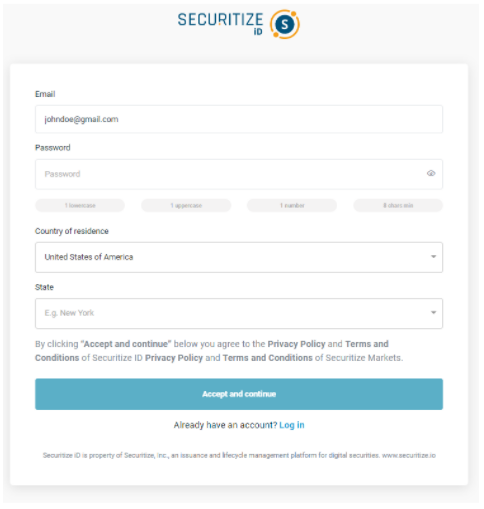 Step 2: Shortly after clicking "Accept and continue," you will receive an email to the inbox of the email you registered with Securitize, asking you to verify your email address. Please click the link to complete the registration.
*NOTE: If your link expires, please repeat the previous steps.
Step 3 (Optional): Upon verifying your email address, you will be redirected back to Securitize.io in order to complete the KYC process.
You have the option to enable Two Factor Verification ("2FA"). This is not required, but it is a highly recommended additional level of security. Click here for more information on enabling 2FA.
Step 4: Begin to fill out all the required information prompted in the "Investor details" module. To be redirected to the Investor details module, click here.
If you wish to open an individual investor account select "Individual", and if you wish to open an account in the name of a legal entity, select "Entity". For more information on completing a KYB ("Know Your Business") for your entity, click here.

*NOTE: Please provide all required information, otherwise, your account may have delays becoming verified.
Step 5: You will be prompted to upload a current Proof of Identification, which will vary depending on jurisdiction. Click here to be directed to the Identity Verification page. For more information on Proof of Identifications, click here.
Accepted Proof of Identification per Jurisdiction
United States: Passport, Driver's License [Front and Back], State ID [Front and Back]

European Union: Passport, National ID [Front and Back]

Worldwide (not US or EU): Passport Only
Concurrent with your submission of your Proof of Identification, you will need to complete a liveness check. Click here to be directed to the Liveness Check.
Steps to Completing a Successful Liveness Check
Before you start the liveness verification:

Make sure the place where you are taking a selfie is well lit and not dark.

Once you are ready, click "I'M READY".

If prompted by your browser, allow access to your camera.

Follow the instructions that you see on the screen: position your face in the frame and move your head in a circle.

Success! The system has taken a perfect shot. Now, to finish the check, click "Next".

*NOTE: If at any point you incur issues completing your Identity Verification or Liveness Check, please reach out to investorsupport@securitize.io and a representative of Securitize will gladly assist.
Step 6: In order to verify your identity, you will be prompted to provide the following required information:
Residential address, please note

PO Boxes are not accepted

Country of birth

City of birth

Tax jurisdiction

Tax ID numbe

r
*NOTE: If any of the above information is missing, you could experience delays in verifying your KYC.
Step 7: After supplying your Proof of Identity, completing the Liveness Check, and providing the required personal information, your account will be reviewed.
If everything is correct, you will receive an email confirmation stating your KYC is verified, as shown below.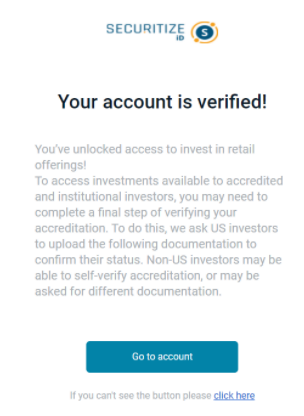 *NOTE: If your account requires updates, you will receive an email letting you know what needs to be corrected.