Verifying your KYB to Trade on Securitize Markets
Step 1: To start the KYB process, navigate to the Securitize.io registration page, or click here. If you have already started your KYB, but still need to complete it, please login to your account by clicking here and follow the prompts.
In the beginning you will be prompted to create an account as shown below: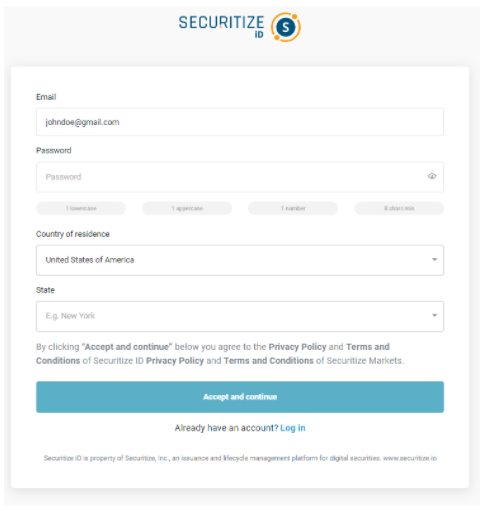 Step 2: Shortly after clicking "Accept and continue," you will receive an email to the inbox of the email you registered with Securitize, asking you to verify your email address. Please click the link to complete the registration.
*NOTE: If your link expires, please repeat the previous steps.
Step 3 (Optional): Upon verifying your email address, you will be redirected back to Securitize.io in order to complete the KYB process.
You have the option to enable Two Factor Verification ("2FA"). This is not required, but it is a highly recommended additional level of security. Click here for more information on enabling 2FA.
Step 4: Begin to fill out all the required information prompted in the "Investor details" module. To be redirected to the Investor details module, click here.
Click "Entity" to complete a KYB in the name of a legal entity, then click "continue". For information on how to create a Securitize iD as an individual, click here.

You will be asked to provide legal documents, legal signer information, and Ultimate Beneficial Owner (UBO) information.
Step 5: You will next be prompted to fill in your entity specific information, including the legal name, any Doing Business As name (if applicable), entity type, tax ID number, and incorporation date.


*NOTE: Please provide all required information, otherwise, your account may have delays becoming verified.
Step 6: Please provide your entity's operational address. Unfortunately, PO Boxes are not accepted.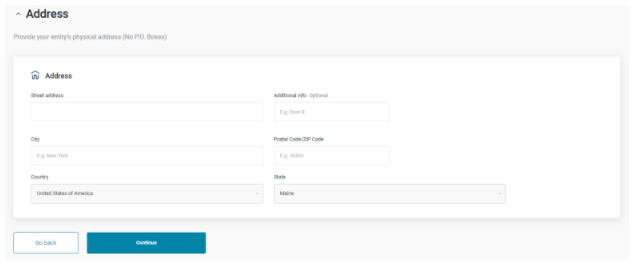 Step 7: Once you have provided your address, please upload your legal documentation. The documentation will vary depending on entity type and country of formation. Please feel free to reach out to investorsupport@securitze.io if you have any questions.
If you need to upload more than the required documents, you can click "Add new document" to upload up to 10 documents.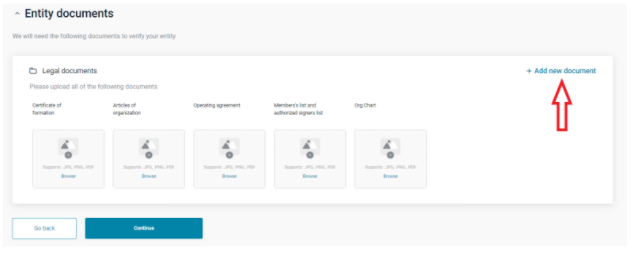 Step 8: After uploading your documents, please create a legal signer profile for each person or entity who owns 25% or more of the company, directors, authorized signers and Ultimate Beneficial Owners (UBO).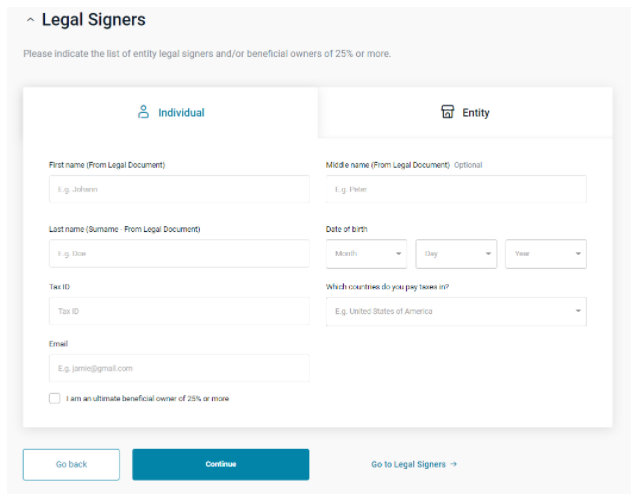 If you own 25% or more, make sure to indicate so by checking the box at the bottom:

Each individual legal signer profile will need to include the following:
First and last name

Date of birth

Social security number or tax ID number

Tax country

Email

Physical address (PO boxes are not accepted)

Proof of identification - this will vary depending on jurisdiction.

Click here

for more information on accepted identifications.
Each entity legal signer profile will need to include the following:
Entity legal name

Any Doing Business As name

Tax ID number

Tax country

Entity type

Email

Entity specific legal documents, this will vary depending on entity type
Continue adding each legal signer profile by clicking "Add another legal signer" in the top right corner.

Step 8: After creating the legal signer profiles, you will have the opportunity to review your information before submitting. If all looks correct, click "Submit Documents for Review" at the bottom. Or "Go back" to make edits.

Step 9: Each entity's Securitize iD is individually reviewed by our Compliance team. Someone from our Compliance team will reach out directly if there are any follow up questions or additional documentation needed. Please allow 2-3 business days for a response.
Please see the below chart for a list of required documentation per entity type