How to Install Metamask on Your Desktop Browser
Your Key to Web3 Crowdfunding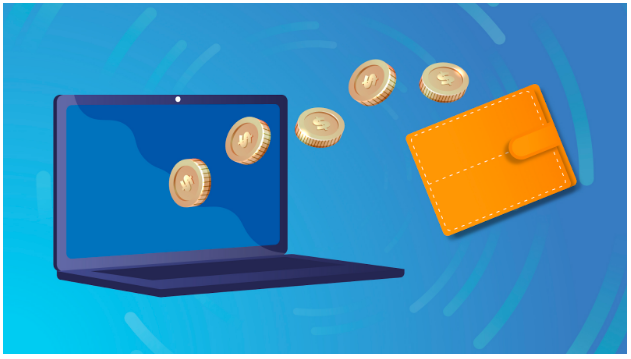 In our last article we discussed what Web3 Crowdfunding is and how it works. In this article we will show investors how to start using digital wallets for Web3 Crowdfunding.
Getting Started
If you're thinking about investing in digital assets or digital asset securities, you probably already know that you need to have a digital wallet to store and manage your assets. You also probably know that there are many digital wallets out there across various platforms like Chrome, Android and iOS, each with its own benefits and limitations.
While this article will not be exhaustive, it will review one of the most-used wallets, MetaMask for desktop use on Chrome, so you can get up and running with Web3 Crowdfunding on Securitize Markets. MetaMask is also available on Brave and Firefox browsers, where the installation steps are very similar. In future articles we will review how to use MetaMask and other wallets such as WalletConnect and Coinbase Wallet.
To get you started, let's review how to install MetaMask, one of the most popular digital wallets, so you can experience the benefits of Web3 Crowdfunding first-hand.
Installing MetaMask
MetaMask is a digital wallet that secures your digital assets and enables you to connect with Web3 applications. While initially designed to be the go-to wallet for Ethereum, MetaMask can connect with multiple blockchains, including Avalanche, Polygon, and Binance Smart Chain.
Getting started with MetaMask is easy. Just go to https://metamask.io/ and click the "Download Now" button.
Note: going directly to the MetaMask website listed above is the best way to ensure you download the correct software.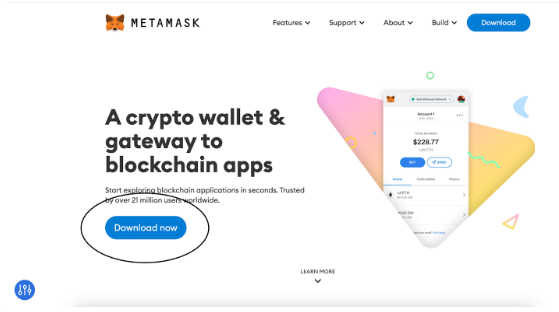 Next, select "Platform and Operating System"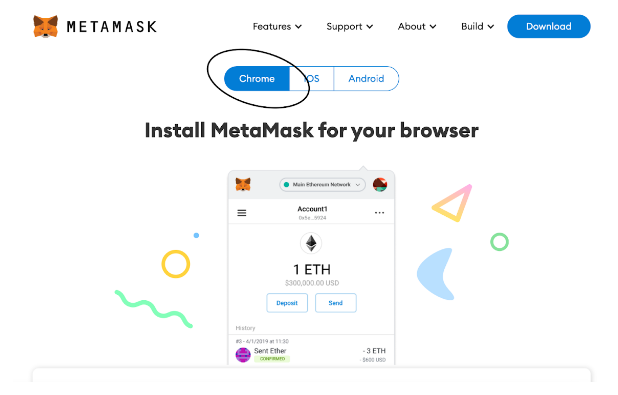 Now, if you use Chrome, click Install Metamask for Chrome. MetaMask is also available on Brave and Firefox browsers, where the installation steps are very similar.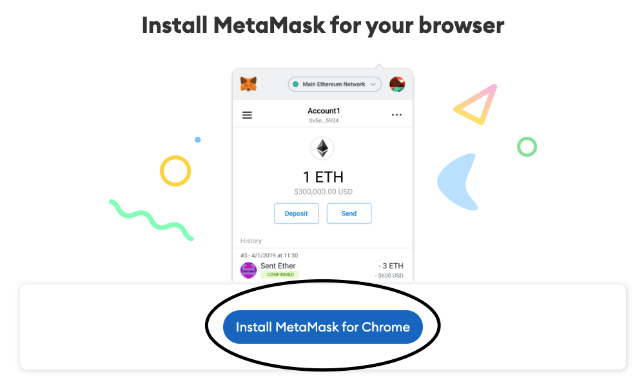 Then, click "Add to Chrome."

At this point, a popup menu will appear. Click "Add Extension."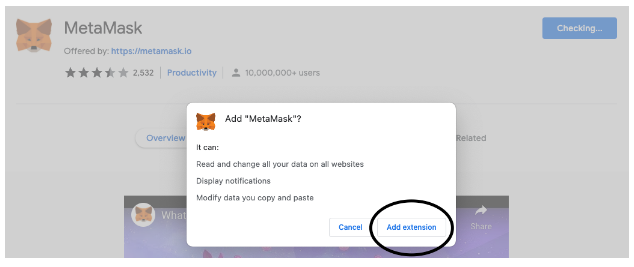 After clicking "Add Extension," a new tab will appear. You'll want to make sure that the address bar of your browser reads "MetaMask" before clicking "Get Started." Once verified, click "Get Started."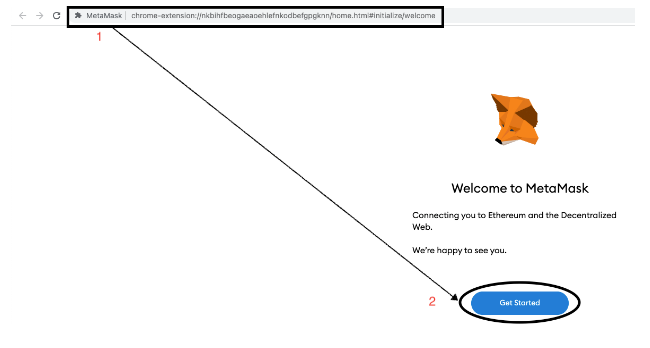 Now, you will see a new screen. Click "Create a Wallet."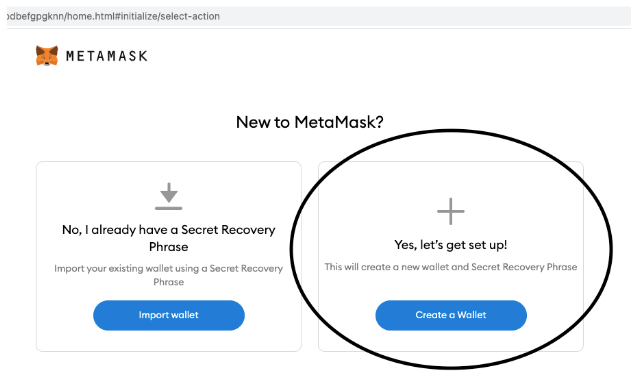 Enter a strong password containing at least eight letters, numbers and special characters to ensure your digital assets and digital asset securities are protected, then check the box to agree to the Terms of Use, and click "Create a Wallet."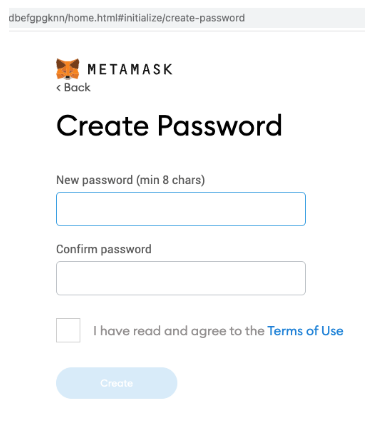 Take a minute to watch the "Secure your wallet" video to ensure you're using best practices. When using digital wallets like MetaMask, there is no centralized password reset. You and only you are in control of your digital wallet, so take the precautions necessary to make sure you use a strong password that nobody else has access to.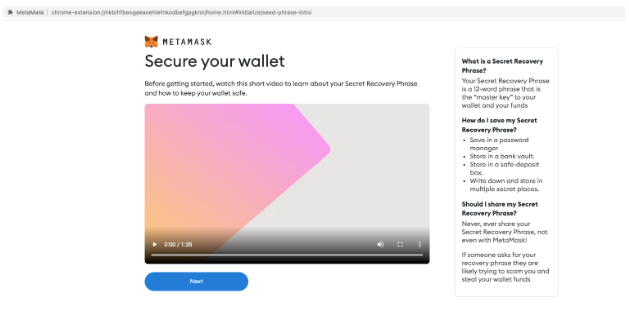 The "seed phrase" you're about to see on the next screen acts as the keys to the kingdom. If you lose your password, you can use your seed phrase to recover your assets. But if you lose your seed phrase, you will no longer be able to access your digital wallet and your digital assets will be inaccessible. So, keep your seed phrase in a safe place, and make sure you never share it.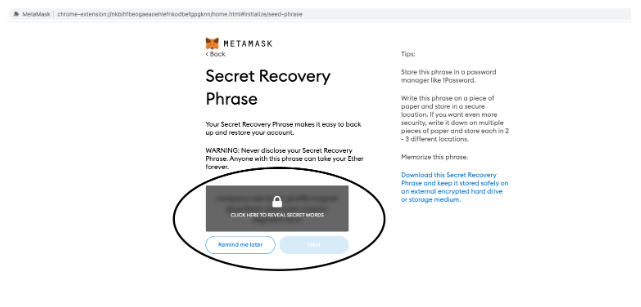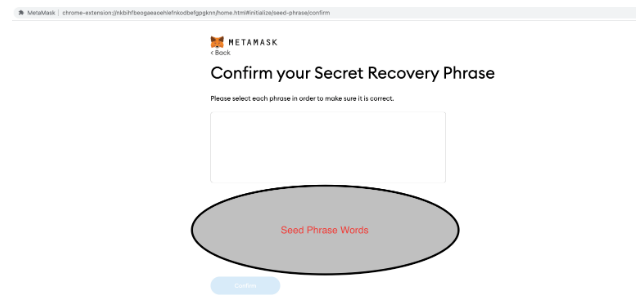 To confirm that you have correctly written down your seed phrase, the MetaMask extension will ask you to enter all 12 words in the exact order they were given. On your screen, the "Seed Phrase Words" will appear in blue where the gray oval is in the screenshot above. Select each word in the order that it was provided, and then click "Continue."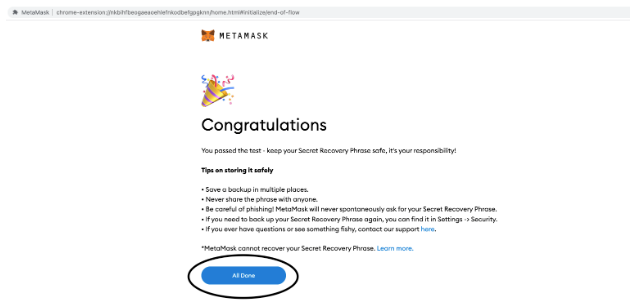 Congratulations! You have successfully installed MetaMask, and can now begin to use it. Just click "All Done," and you'll be off to the races.